Human Resources Intern | January – August 2023
MedOne Pharmacy Benefit Solutions
1 Positions
ID: 24128
Posted On 11/08/2022
Job Overview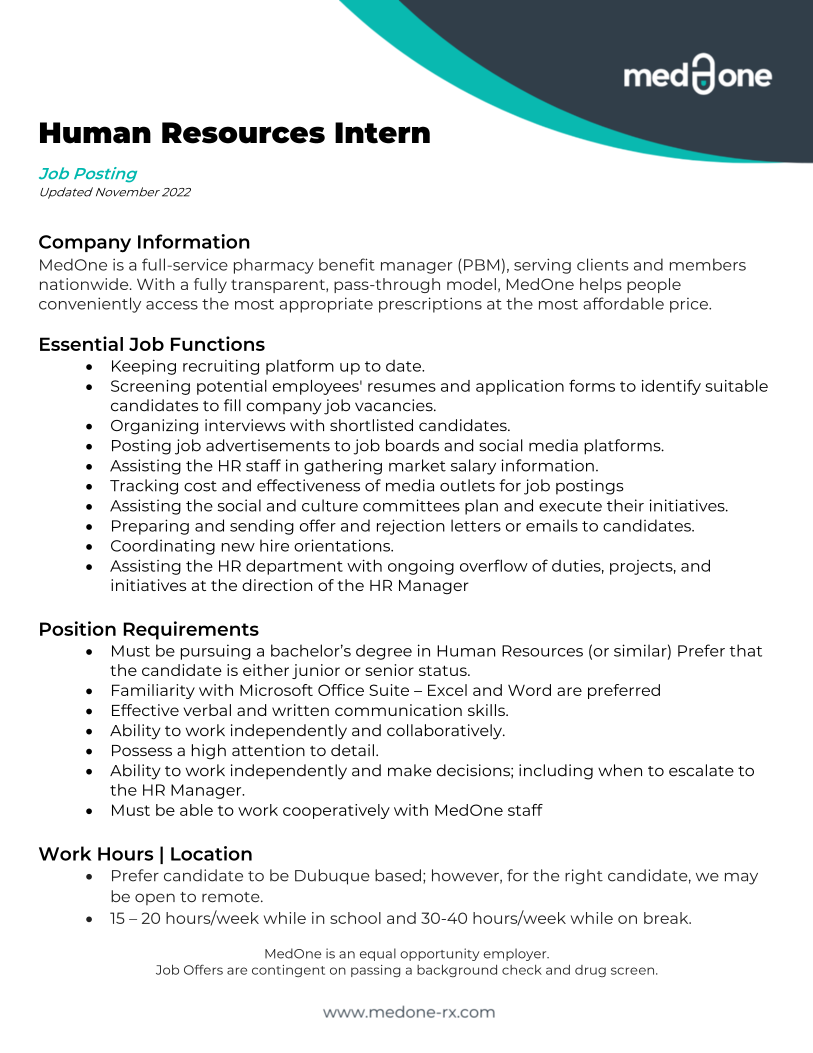 Company Information
MedOne is a full-service pharmacy benefit manager (PBM), serving clients and members nationwide. With a fully transparent, pass-through model, MedOne helps people conveniently access the most appropriate prescriptions at the most affordable price.
Essential Job Functions
Keeping recruiting platform up to date.
Screening potential employees' resumes and application forms to identify suitable candidates to fill company job vacancies.
Organizing interviews with shortlisted candidates.
Posting job advertisements to job boards and social media platforms.
Assisting the HR staff in gathering market salary information.
Tracking cost and effectiveness of media outlets for job postings
Assisting the social and culture committees plan and execute their initiatives.
Preparing and sending offer and rejection letters or emails to candidates.
Coordinating new hire orientations.
Assisting the HR department with ongoing overflow of duties, projects, and initiatives at the direction of the HR Manager
Position Requirements
Must be pursuing a bachelor's degree in Human Resources (or similar) Prefer that the candidate is either junior or senior status.
Familiarity with Microsoft Office Suite – Excel and Word are preferred
Effective verbal and written communication skills.
Ability to work independently and collaboratively.
Possess a high attention to detail.
Ability to work independently and make decisions; including when to escalate to the HR Manager.
Must be able to work cooperatively with MedOne staff
Work Hours | Location
Prefer candidate to be Dubuque based; however, for the right candidate, we may be open to remote.
15 – 20 hours/week while in school and 30-40 hours/week while on break.
MedOne is an equal opportunity employer.
Job Offers are contingent on passing a background check and drug screen.